LET'S GIVE EVERYONE ACCESS TO THE DANCE FLOOR.
We are committed to bringing access to positive, healthy and safe dance into the life of all Santa Barbara County humans.
SB Dance Sugar is proud to shine the spotlight on these amazing local groups who bring the gift of movement and expression to those who might not otherwise have meaningful access to the dance floor. As of March 2016, we are still building out this page, but never fear, we've got major stuff going on behind the scenes.
If you are a local non-profit or group whose primary purpose is to provide or advocate for access to dance for one or more of our underserved communities, please contact us at sbdancesugar@gmail.com to give us your deets! We want to help you shine:)
Dance Programming for Underserved Youth
Everybody Dance Now! Santa Barbara is a chapter of the national, youth-led network that provides free hip-hop dance programs to disadvantaged youth, using dance as a tool to cultivate self-esteem and establish healthy lifestyles. In addition to weekly dance classes, EDN! also offers master classes, service learning, and hip hop dance events. Students also participate in outreach performances on a quarterly basis, performing for and interacting with the elderly, teens and adults with disabilities, children participating in other after-school programs, and audiences at non-profit fundraisers.
EDN! has been featured on MTV's America's Best Dance Crew (click here) and holds and annual hip hop event featuring masterclasses with professional hip hop dancers, a crew showcase, and a 2 vs. 2 all-styles battle judged by danced celebrities from all over the country. For more information on EDN!, check out their website: http://ednsb.org
Santa Barbara Dance Institute
Santa Barbara Dance Institute was founded in 2005, modeled after the National Dance Institute's programming, with the belief that the arts have a special ability to inspire children to find excellence within. To this end, SBDI provides dance programming which inspires children to realize their potential by motivating them to believe in themselves, value artistic expression and develop a personal standard of excellence.
SBDI's current programming includes Full-Year In-School Programs (through which a dance teacher and an apprentice teacher serve entire grade levels during school hours, once a week for an entire year), Full-Year After-School Programs for dance teams (which meet after school at each SBDI Partner School), as well as performance opportunities. SBDI also has an Artist in Residency program that pairs Teaching Artists (including professional dancers, choreographers, musicians and composers) with Partner Schools. For more information on these programs, click here.
The purpose and mission of SBDI programs is to help children develop discipline, a standard of excellence, and a belief in themselves that will carry over into all aspects of their lives. For many children SBDI is a life changing event; for all, it is an amazing experience they will never forget. Plus is looks like a whole lot of FUN!
For more information on SBDI's mission and programming, visit their website at: www.sbdi.org.
Arts Mentorship Program
Santa Barbara's Arts Mentorship Program (AMP) supports dance for Santa Barbara County's underserved youth in a variety of ways.
Scholarships: AMP awards need-based scholarships to youth whose families face financial and/or medical hardships, and works closely with local non-profits to bring the gift of dance to our community's most vulnerable populations. Scholarship recipients receive a personal mentor who meets with the dancer and their family to assess goals and help address challenges. The mentor is a constant and a bridge between dancer and teacher, ensuring the experience is meaningful and impactful. AMP's scholarship program also include partnerships with local organizations like Teen Dance Star, through which scholarship funds have been designated for students who train from Carpinteria to Santa Ynez in disciplines ranging from ballet, jazz, lyrical, contemporary, tap and hip hop dance.
In addition, AMP's current partnerships with Transition House, Girls Inc, United Way of Santa Barbara County, SB Neighborhood Clinics, and various Foster Care Agencies help ensure that children find healing through dance. For more information on AMP's Scholarship Program, visit: ampsb.org/scholarships
No Limits: Based on the belief that the belief that dance should be accessible to all children, AMP has created the FREE No Limits Dance Program to bring dance into the lives of our community's underserved youth. The four-week long All Access class (for children ages 7 to 12) teaches children the fundamentals of hip hop dance in a safe and healthy environment. The Inclusion Class (ages 8-17) is designed for children with physical and emotional special needs, with the goal of introducing them to the world of movement and expression. Professional instructors and teen mentors help the students build confidence, worthiness, and connect to their bodies in a judgment-free atmosphere. The session culminates in a performance showcasing the NO Limits students and teen mentors. For more information on the No Limits program, go to: ampsb.org/no-limits/
ARTS FOR HUMANITY!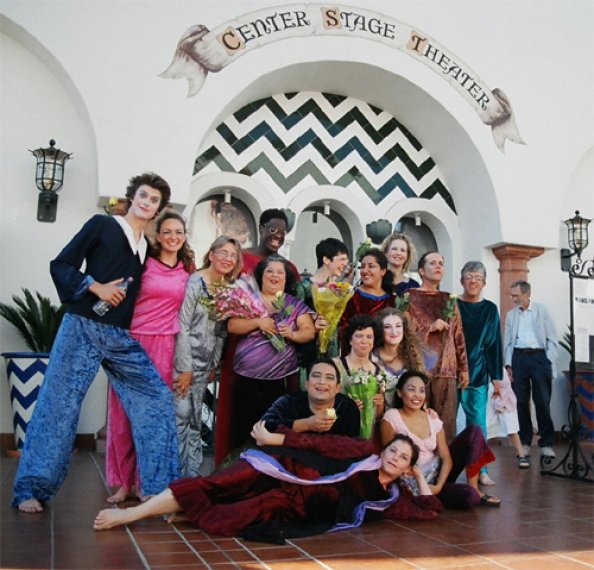 Arts for Humanity! is a Santa Barbara-based nonprofit that provides Expressive Arts Programs for marginalized, under-served community members, at no charge, through partnerships with local organizations and college interns. Arts for Humanity! collaborates with local social service agencies and after-school programs to offer low-income elders, people with disabilities and at-risk youth free ongoing opportunities for personal growth through the arts, including dance. Arts for Humanity! enables and encourages each participant to empower themselves and build community through dance, theatre, poetry and visual arts. Check out their programs and mission here: Arts for Humanity!
Check out their work in the video of the Creative Expressive Arts program at Alpha Resource Center!