Russian Wisdom and Teaching Artists to Fish
When it comes to artists, Талантам нужно помогать,бездарности пробьются сами." Am I right?
Just kidding. I'll explain.
My artist friend Anna Warkentin and I were talking about the plight of artists in our modern, market-driven culture (yeah, we're lofty like that), and she quoted me this old Russian saying. In response to my baffled expression, she quickly translated: "The talented need our help… the mediocre will succeed on their own."
Oh those Russians. So wise. Artists do need our help.
And I don't mean this in a negative way. The reality is that most artists don't perceive of themselves as small business owners. Most hate the idea of monetizing their processes and creations and don't particularly want to promote themselves the way other businesses do. When coupled with the fact that our society doesn't place a huge economic value on artistic works and endeavors to begin with, even those who make money usually don't make much. The term "starving artist" isn't an exaggeration.
As a result, an overwhelming number of talented souls who would otherwise pursue careers in the arts ultimately give up on their dreams. Many abandon art altogether. Those who hang on may turn their passion into a "hobby," creating or performing in short windows of opportunity carved out of lives filled with day jobs, family life and other "must-do" activities. The end result is simple: Economics trump and our artists make less art.
But we need artists because, well, they produce ART... and art matters. I'd start ranting about why art and creativity matter, but others have done it more eloquently than I ever could. (Sir Ken Robinson does a fantastic job in his video.) Besides, if you DON'T think art matters, why are you reading a dance blog?
So the question isn't whether we should help artists. It's HOW we should be helping them. I humbly submit that we need to go beyond buying art, seeing dance and musical performances, or buying books, songs, poems, etc. (please do these things, though). And I believe that we need to do more than provide grants and other funding to artists (which we should to continue to do, of course). We need to do more than "give them fish." We need to teach artists how to fish. We need to teach our artists to survive in a market-driven world in a way that doesn't compromise their creativity.
This is why we need Art Without Limits (a.k.a. "AWoL" – love that moniker). AWoL is a local non-profit that provides a guidance, support, education and professional development programs for our community's emerging artists. AWoL's mentorship program, for example, pairs emerging artists with professional artists in intensive, long-term, one-on-one mentorships. These mentorships are highly personalized and may focus on honing artistic skills, community building, marketing or goal-setting. These mentorships are offered free of charge – the only "repayment'" the program requires is that emerging artist use their skills and abilities to help their mentors and AWoL by assisting with events, acting as ambassadors for the program, and leading workshops for Santa Barbara's school and underserved communities.
AWoL also offers Fiscal Sponsorship for artists and groups needing a nonprofit to received grants and funding on their behalf.
Now for the fun stuff -- here are some of the emerging artists who have received AWoL mentorships:
And here's a sampling of some of the mentored artists' amazing work:
Cool, right? But wait there's more!
AWoL also offers a variety of other artist-development programs, including a Peer-to Peer program under which experienced teens provide instruction in basic art skills to younger students who can't afford lessons, as well as shorter-term "Turning Point" mentorships (15 hours each). And AWoL hosts monthly Business Workshops for artists and others – these workshops are always open to the public. Past workshops have focused on legal issues, insurance, press release and grant writing, accounting, bookkeeping, social media and more. The next Business Workshop on May 12, 2015, 5-7 PM, will focus on radio interviews: "Taking it to the Airwaves" with Jim Sirriani and Lin Aubuchon of KTYD, and will be held at Union Bank's Community Partnership Center at 11 E Cabrillo Street. Click here for pre-registration and details.
Finally, please make sure the young artists in your life come to AWoL's annual Art Career Day Conference, which is affectionately known as "ACDC". [CUE: iconic hard rock earworms.] ACDC is a full-day conference for teens and college age students 13-25 years old who are interested in a career in the arts. This year's ACDC will be held Saturday, April 25th, 2015, and will host presentations and breakout groups as well as informal communication opportunities with over 40 professional artists from disciplines ranging from dance, acting, and visual arts to fashion design, animation and architecture. Please encourage the dance and art students in your life to stop by and check it out. (It's a good idea to pre-register to make sure you get the breakout groups you want.) Click here for more information: www.acdc-sb.org
And now some "behind the scenes" shots from last year's AWoL: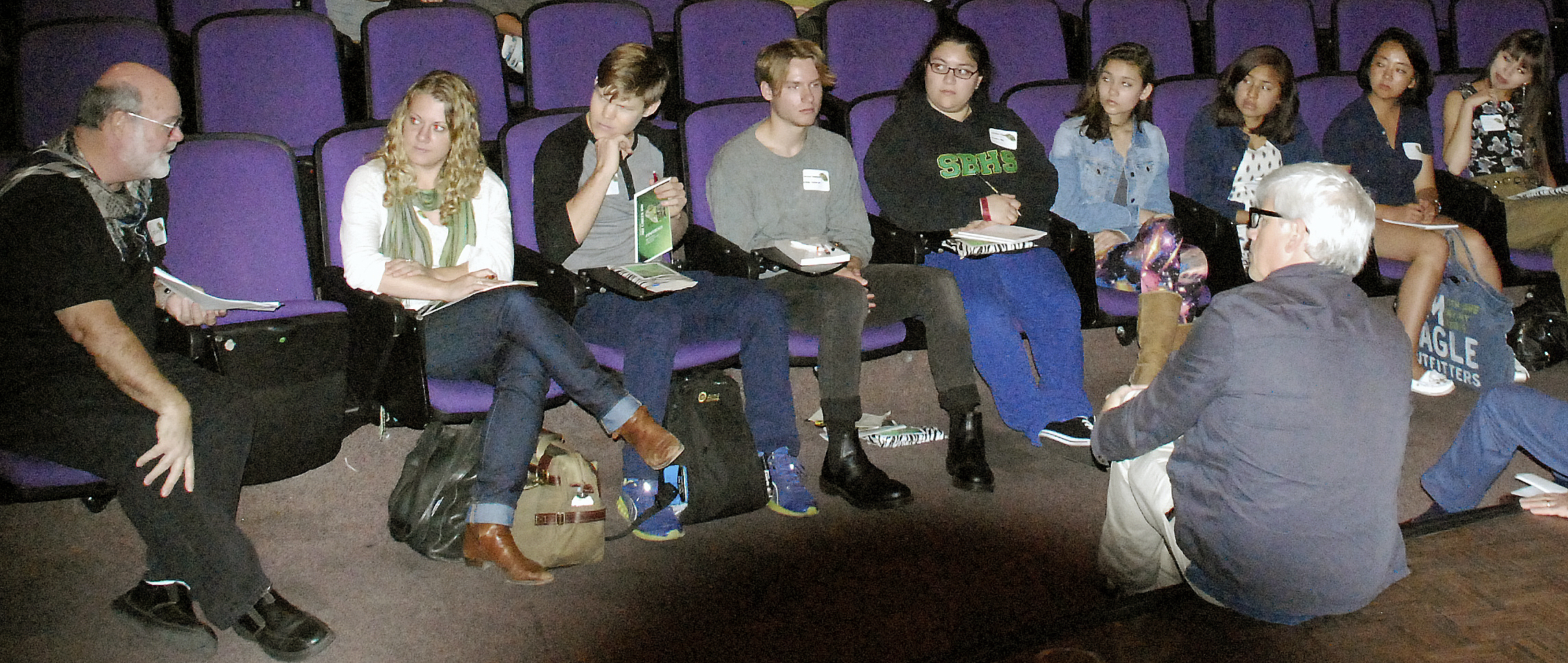 Last but not least, like all of our non-profits, AWoL needs our financial support. Without the funds to nurture and promote these wonderful projects, they simply won't happen. If you would like to contribute to Art Without Limits, you can do it through this new gofundme account: click here. Thank you:)
Please help our emerging artists survive, grow and thrive in Santa Barbara:!